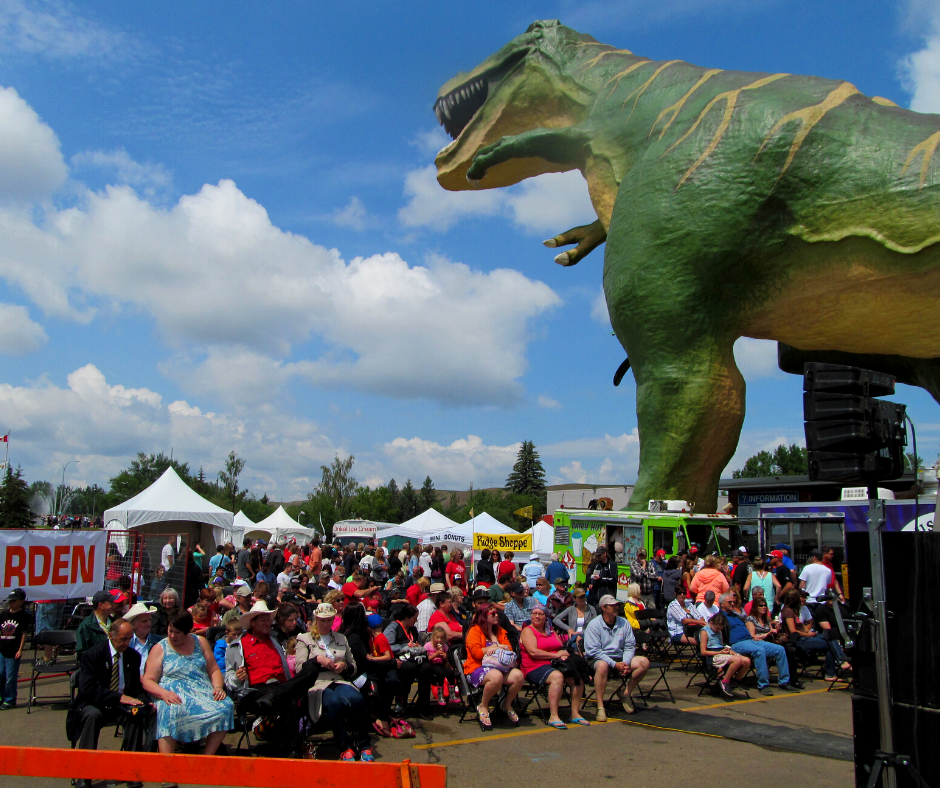 Canada Day Events
Canada Day 2022
OH CANADA!
After a couple of summers without being able to have a Canada Day in the way the Valley has traditionally celebrated, we are thrilled to announce our Canada Day celebration for 2022!
Scroll down to see what food and activities, family fun and entertainment Drumheller is offering on July 1st.
Looking for parade information? Please visit drumhellerparade.org.
If you've got questions about the day, would like to volunteer or participate in some way, please contact events@drumheller.ca or call 403-823-1370
Hourly Schedule
Canada Day Events
7:00am - 9:30am

Kinsmen Pancake Breakfast

Riverside Value Drug Mart
9:00am - 9:00pm

World's Largest Dinosaur & Gift Shop

60 1 Ave W
10:00am - 11:30am

"Uncover Wonder" Parade

https://drumhellerparade.org/parade-route.html
10:00am - 12:00pm

Coffee

Pioneer Trail Society
11:00am - 5:00pm

Farmer's Market

Drumheller Memorial Arena
11:30am - 1:30pm

Darryl Jacques Memorial Beef on a Bun

101 6 Ave SE. Sponsored by Freson Bros. and Drumheller Rotary Club
12:00pm - 2:30pm

Smokie on a Bun BBQ

555 Hwy 10. Sponsored by Westview Coop. Proceeds support Greentree School Breakfast Program.
2:00pm - 11:00pm

Drumheller Dragons Beer Gardens

60 1 Ave W.
2:00pm - 6:00pm

Inflatable Fun Slides & Bouncy Houses

Badlands Community Facility. All Ages.
2:00pm - 6:00pm

Balloon Artists

Badlands Community Facility
2:00pm - 6:00pm

Lothar the Magician: Magic & More

Roaming locations
2:00pm - 6:00pm

Toonie Swim

Drumheller Aquaplex
2:00pm - 6:00pm

Caricature Artists

Badlands Community Facility
2:00pm - 2:15pm

Opening Remarks & Oh, Canada!

Rotary Park, Entertainment Stage
2:15pm - 2:30pm

Cutting of the Cake

Rotary Park, Entertainment Stage
2:15pm - 3:15pm

Lanigan & Layne

Rotary Park, Musical Group, Entertainment Stage
3:30pm - 5:45pm

Detour

Rotary Park, Musical Group, Entertainment Stage
6:00pm - 8:15pm

Fraid Knot

Rotary Park, Musical Group, Entertainment Stage
8:30pm - 10:45pm

Brandon Lorenzo

Rotary Park, Musical Group, Entertainment Stage
11:00pm - 11:30pm

Fireworks

Set off from the hills north of the World's Largest Dinosaur