Plan The Perfect Wintertime Visit To Drumheller: Here's Your Guide
Drumheller is a dinosaur town through and through; summers in Drumheller are meant to be spent outdoors checking out fossils and thrilling rock formations. But the fun doesn't stop once the weather chills. One of the best things about winter in Drumheller is getting to check out plenty of the main attractions while avoiding the area's peak tourism season. So with that said, here's some places to go in Drumheller during the winter…
1. Head To A Museum
If you haven't been to the Royal Tyrrell Museum in a while, prepare to get reacquainted. The Royal Tyrrell Museum is heralded as one of the best dinosaur museums in the world, and that is a distinction that lasts year-round. Besides the fantastic assortment of bones and fossils sure to blow your mind, did you know that during the winter months you can stay overnight at the museum? You can spend the night digging for fossils or creating your own fossil replica, tour the galleries and learn all about the dinosaurs who call the museum home. We don't know if the dinosaurs come to life after lights out but there's only one way to find out.
2. Go On A Photo Op Adventure
Take it from us: the Badlands and Drumheller look incredible in winter. Get out your camera or smartphone and go on a sightseeing tour. The Hoodoos transform from summer sandstone stand-outs to majestic winter pillars, like massive ice picks that were left alone to grow. Imagine standing next to one – that'd be quite the portrait!
Or take a gander into Horsethief Canyon and see just what winter does to the former thieves' hideout. Armed with a camera, you can stage fantastic photo opportunities and shoots – just check our Instagram account to see what we mean.
3. Get Outside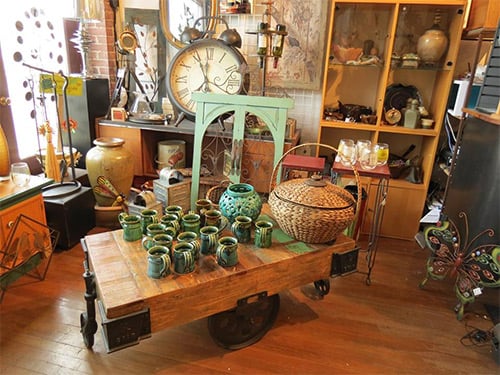 One way to beat the winter blues is plenty of exercise. So for all you interested in some physical fun, go for a round of outdoor skating at two outdoor rinks in the Drumheller area. Between the Rosedale and Nacmine rinks, you're covered for all things skating related! Afterwards, relax with a refreshing swim at the Drumheller Aquaplex. It's a massive facility and trust us when we say there's enough programming and swim activities to keep you occupied all winter long.
If you're more into watching others be physically active, you can always take in a Drumheller Dragons game! The Junior A hockey calls the Drumheller Memorial Arena home and competes in the AJHL. Round up some buds and take a night out to enjoy Canada's favourite game.
4. Go Shopping
Why spend a weekend in when you can spend a weekend out? Drumheller is home to some great art galleries, full of fascinating gems and hidden discoveries. Check out some great locally-inspired works inspired by their life in the Badlands. You'll even be able to take some of them home with you – galleries like Natural Light Images offer prints and canvas for sale.
Winter is also an excellent time to give your wardrobe an overhaul. Take a quick drive through the town to scour for some new clothes; Drumheller has some wicked fashion shops for the designer-minded, the vintage-inspired and those simply in need of some new duds for work! Start planning your unique shopping trip.
5. Dinner & A Show
It's getting late and you're feeling famished. It's time for some dinner. While you're pondering your options (thanks to our extensive list of Drumheller-area restaurants, eateries and food joints), might we interest you in a show? From November 1 to December 22, Rosebud Theatre will be taking on "A Christmas Story" for their winter show. It's one nutty old-fashioned story perfect for the whole family and it helps you'll be seeing it performed in one of the best theatres in Western Canada.
Drumheller has plenty of fun waiting for you to explore in the offseason. See you soon!
Feature Image: Travel Alberta / Mike Seehagel