Travel Drumheller Happenings
MARKETING MENTORSHIP PROGRAM
Travel Drumheller is launching a new pilot program to help tourism businesses enhance their marketing and grow their business. This 8-week program is free for Travel Drumheller partners in its inaugural year and will provide one-on-one marketing counselling for select businesses.
If you're not already a partner, apply now so you are eligible for this excellent opportunity.
Topics covered include, but are not limited to:
Establishing Marketing Goals
Writing a Marketing Plan
Planning Social Media Content
Website Development
Marketing Analytics
And more…
To participate in Travel Drumheller's Marketing Mentorship Program, please complete the application form and submit as soon as possible. Limited spots are available.
Marketing Mentorship Program Participation Agreement
For more information, email Travel Drumheller
BUSINESS SURVEY REPORT
Local businesses are generally optimistic about the future and non-tourism businesses are strongly supportive of the tourism industry. These are two key findings from a recently completed business survey funded by Community Futures Big Country and completed in partnership with Drumheller & District Chamber of Commerce, the Town of Drumheller Economic Development Department and Travel Drumheller. You can read the final report here.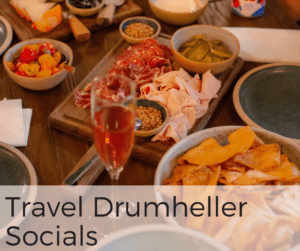 TRAVEL DRUMHELLER SOCIALS
We invite members of the travel industry of Drumheller to come together for an opportunity to meet with members of the Travel Drumheller Board, chat with other tourism operators as you share experiences and explore a fellow business to learn about their experiences. Light refreshments from local businesses will be served. The events are free however we ask that you reserve your spot so we know how many will be attending.
Our next Social is at the Heartwood Inn on Thursday, August 18 from 5 p.m. – 8 p.m. Hosted by Heartwood Inn and DNA Gardens. To reserve your spot for the social, please click here: https://www.eventbrite.ca/e/travel-drumheller-business-social-tickets-369274659447
If you wish to host a social event, let us know at admin@traveldrumheller.com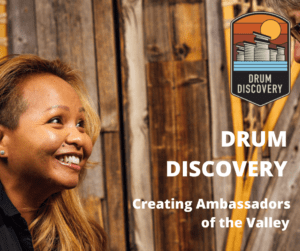 DRUM DISCOVERY
Build you and your staff's knowledge and passion for the Drumheller region through this training and support program. The program has been created by Drumheller partners to help front-line staff become Ambassadors of the Valley!
Participants will receive customer care training, a tour of the Valley, discover supports available to them and learn how to help everyone make the most of their Drumheller experience!
Consider joining us for our 2023 Program next spring. For more details on the 2022 program read through the Drum Discovery Flier 
Drumheller Valley Tourism Indicators
We would like to provide aggregate data from the Drumheller Region to indicate how the Tourism Industry is growing locally. This data will be invaluable as we use it to compare with provincial data and local businesses can use it as a benchmark to see how their business is performing. Travel Drumheller needs your help to create these Tourism Indicators. Please submit your metrics through the appropriate form below. All data will remain confidential and only be shared when combined.
If you are a businesses that falls under two business categories (eg. a cafe that sells retail products as well as food and beverage items) please split these two sales categories so our data remains as accurate as possible. If you're not sure what category you should submit information under, please contact us.
If you have any questions, please email admin@traveldrumheller.com.
Travel Drumheller Partnerships
Partnering with Travel Drumheller is a great investment for your business and demonstrates support for the local tourism industry. Become a partner with Travel Drumheller today.
An annual partnership with Travel Drumheller costs $120 + GST
Benefits of partnerships include:
discounted advertising in the 2022 Exploration Guide
discounts to educational workshops
the opportunity to be a Board Member
the opportunity to be part of upcoming campaigns
additional stakeholder support including networking sessions
Complete the fillable Partnership application  and email it to us at info@traveldrumheller.com
Feel free to give us a call about our partnership program at 403 823 2242.
Travel Drumheller  Visitor Newsletters
We are increasing our use of visitor newsletters.  There are currently over 2,000 people signed up to receive the newsletters.   These newsletters highlight the experiences and events coming up in the Drumheller area. We would love to promote your business and events directly to people's email inboxes.
What do you need to do?
Send us an image (1080 X 1080) you would like to use to promote your business or maybe a special offer. It needs to be engaging and high quality.
Send us the verbage for the ad maximum 90 characters
Send us the link to use in the ad it could be your Facebook page or your website. Maybe its a link to a special offer page.
What will Travel Drumheller do?
Include the ad in the next newsletter. We generally send them out the first week of the month and so make sure you send the information well before the end of the month in order for it to be included.
Promote your business targeting people visiting our attractions, events and also potential travellers across Alberta. If it is an event we will add it to the calendar on our website.
Provincial Information & Opportunities
Discover opportunities to grow your business, strengthen your marketing, extend your knowledge and cultivate the tourism economy in Drumheller and the valley.